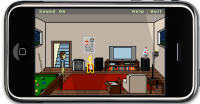 The Adventures of Khaki Pants Pete
***500+ 5-star ratings and thousands of players!***
A retro 2D adventure game about a guy, his house, and the adventures he gets up to one enchanted evening.
For Blockdot.com, a major advergaming company in Texas, for their client Unilever, promoting the Klondike Bar product line. I did all the iPhone programming, and wrote some Python tools and shell scripts. Engine designed from scratch and supports 2D graphics and audio, built directly on top of Apple's API's. Chapter 1 of 4 shipped to Apple the 2nd week of July 2009, and went on sale as of August 24. I've begun development of Chapter 2 and will be doing the others afterward in sequence.
Links: app, and website.