The mad Dr. Hexenhammer has experimented with Secrets Man Was Not Meant To Know one too may times.
And now Something Very Bad has happened in your previously quiet little town--
-- a horde of zombies has been unleashed!!!
And they hunger for brains!
Unfortunately, you have a brain...
So you better think fast if you'd rather not wind up as lunch for this growing army of mindless, evil undead! Dead By Zombie is a game of survival, strategy and role-playing adventure in a world experiencing a zombie apocalypse.

Inspirations: things in the same genre or that inspired this game, so that if you like any of them you might like this game.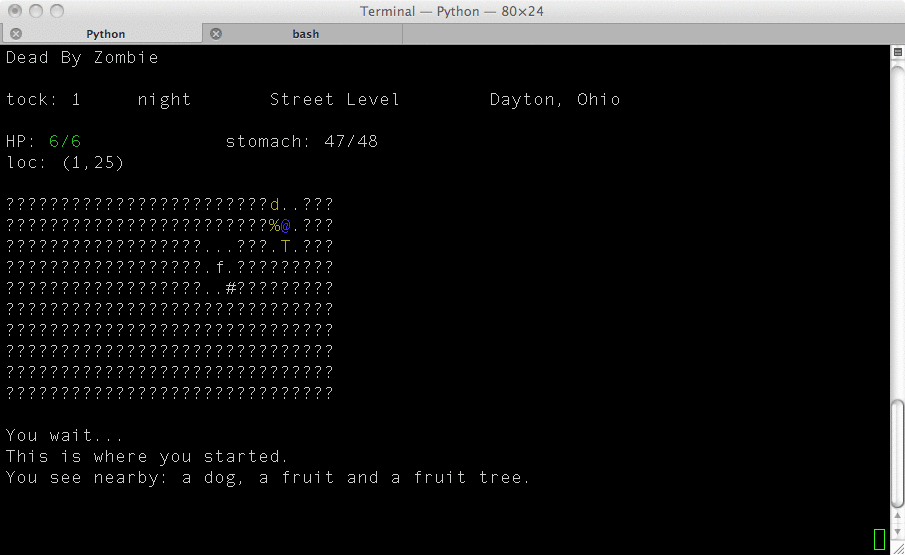 Screenshots - see more pics of the game

Play the Free Demo?
Download for Windows or Download for Mac or Download for Linux

Version Comparison - learn feature differences between Free Demo Download, the Premium Download, and the Premium Deluxe CD Package

Want to play the FULL version? First download the Demo. Then Buy a Premium License for a mere $5. Then run the demo and enter the code to unlock the full version feature set. It's just that easy! Then begin playing immediately!
BUYING SUSPENDED TEMPORARILY. DBZ PREMIUM IS PLANNED TO BE BACK IN THE WINTER 2013 WITH AN EXICTING MAJOR NEW RELEASE "DEAD BY ZOMBIE 2: THE RAVENOUS DEAD" CONTAINING A LARGER WORLD, SEVERAL NEW PLAY MECHANICS THAT ARE USEFUL/FUN/REALISTIC, AND AN EXCITING NEW ZOMBIE WRITER

README - see the system requirements, install instructions and guide to play

This game is currently available for Microsoft Windows, Mac OS X and Linux.
Mac OS X must be 10.4 or higher.
Windows must be ME, XP or Vista, or compatible (other versions might work also, but only these have been confirmed so far).
The Linux version requires a recent 2.x series kernel and Python 2.5 (accessible as "python2.5").

Conventions - check this out for news about our convention schedule where we promote the game while disguised as Mad Scientists giving out Free Zombie Minions and Painful Rashes in Awkard Locations. Er, wait.

Full Credits - who did what

designed & developed by Mike Kramlich

Questions? Feedback? Email us at:
groglogic #AT# gmail.com
NOTE: replace "#AT#" with "@" for the real address

Copyright 2008-2009 by Mike Kramlich
All rights reserved worldwide


UPDATES:
2013 Feb 10: updated the download version dists for Mac/Lin/Win to fix bug with curses addstr call that could cause the game to fail at startup if terminal window is too small; now rather than crash it will gracefully chop off unvisible characters; make sure to enlarge your window if any text appears missing; if you wish to download and install the new version, your licenses will still work